Vitality Health Insurance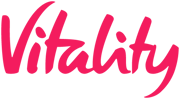 VitalityHealth is a UK based company specialising in private medical insurance, with over 1 million UK customers. The company is a subsidiary of Discovery Limited, and forms their UK offering alongside VitalityLife and Vitality Corporate Services.
The Vitality brand is well-known for its incentive-based model - encouraging healthy living in exchange for rewards.